OVERVIEW
Your stay in one of the luxurious suites of Four Season Hydra will take you to a place of harmony, relaxation, and intimacy.
Accommodation in Four Seasons Hydra achieves the ideal balance between intimacy and style. The hotel consists of ultra-luxurious suites, each one of which is inspired by the magical colors and atmosphere of the four seasons.
The elegant suites have been designed to provide a highly comfortable accommodation, and each of them can host up to 4 guests. In harmony with the traditional dignified style, each suite is decorated with themes reflecting the shades and moods of the four seasons.
OUR SUITES
Spring

SUITE WITH SEA VIEW

Size:

34m²

Guests:

4

View:

Sea View

Wherever you stay in the Four Seasons Hydra you will enjoy a full panoramic view of the area.

Summer

SUITE WITH SEA VIEW

Size:

43 m²

Guests:

4

View:

Sea View

Located on the first floor of our guesthouse, this suite is where the yellow colours of summer sun dominate.

Autumn

SUITE WITH SEA VIEW

Size:

35,5m²

Guests:

4

View:

Sea View

Just like in the "Spring" suite, you can enjoy a 360° view here as well.

Winter

DOUBLE ROOM WITH SEA VIEW

Size:

30m²

Guests:

2

View:

Sea View

This is situated on the 1st floor of our guesthouse and occupies 30 sqm.

Thalassa

DOUBLE ROOM WITH SEA VIEW

Size:

24m²

Guests:

2

View:

Sea View

Featuring a bedroom area with one double bed, bathroom with shower, and a terrace overlooking the Aegean Sea & sunset.

Sun

DOUBLE ROOM WITH VERANDA

Size:

20m²

Guests:

2

View:

Mountain & Side Sea View

Walking through our wonderful garden, you will find Sun. It is a lovely, isolated room.

Size:

32m²

Guests:

4

View:

Mountain View

The "Moon" is the surprise of FourSeasonsHydra. In an old but renovated construction, next to the main guesthouse, we have built two creative spaces.

Size:

50m²

Guests:

4 guests (max. adults: 2)

View:

Sea View

A small paradise by the sea
FACILITIES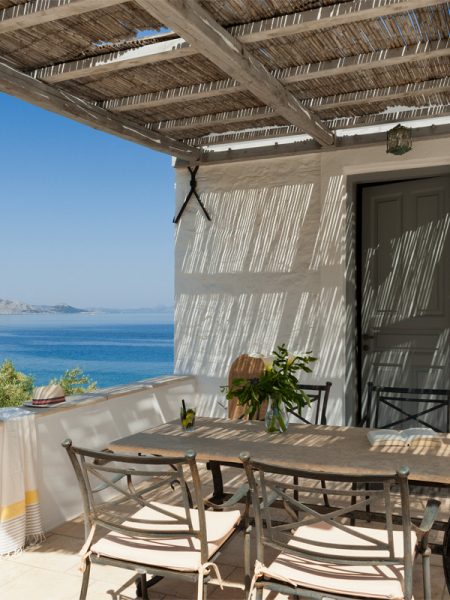 At the Four Seasons Hydra we strive to provide services to enhance your stay and enjoy all that Hydra has to offer. Our dedicated staff can offer you all this and more, so just ask…